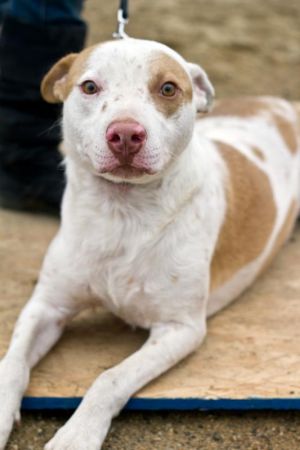 Pit Bull Terrier, Jack Russell Terrier
Up-to-date with routine shots
Spayed/Neutered
Jasper was feral, starving and covered in mange when rescued in St Thomas. Now approximately 2 years of age, Jasper is a Pitbull - Jack Russell terrier mix. Super energetic and affectionate, Jasper loves belly rubs. Suitable for a child-free forever home.
Young, Male, Medium



Pit Bull Terrier
Spayed/Neutered
Up-to-date with routine shots
Spayed/Neutered
UPDATE; BLITZ IS CURRENTLY IN TRAINING AND FOSTER CARE. The story of Blitz began for us on July 26, 2011. This great dog was found tethered to a telephone pole in the state of Georgia by a homeless gentleman. After a short time together they relocated to New Hampshire. When the man could no longer take proper care of Blitz, he was surrendered to Above the Notch Humane Society. At the time that we received Blitz, who is a neutered, male, red Staffordshire terrier, he was friendly to just about everyone. Since we did not know what his life had been like previously, there was no way of knowing if he had any personality issues or problems. Blitz has spent the last 4 years with us. Aside from getting out sometime during the day and taking walks, he has spent a better part of his days in a kennel and did develop some behavioral issues. If anyone that he did not know walked by him, he would bark and jump on the kennel door. We have been working to help him overcome and move past these issues. Tuesdays became 'Night with Blitz" at the kennel where we slowly introduced him to new people. This boy did have what we considered trust issues where he was wary of people that he did not know. We slowly introduced him to new people so that he would not react to them in a negative way. He now has a circle of human friends who he trusts and his behavior has improved so much from when we first started. Blitz, once he has met and trusts you, is very friendly and lovable. It has been said of him that he has a very sweet soul. However, he does still need more training in order to be a 'good citizen' in public. The Above the Notch Humane Society Board of Directors recently made the decision to send Blitz to the All Dogs Gym in Manchester, New Hampshire run by Gail Fisher, a well known dog trainer. She is now working toward furthering his socialization training. What was recently discovered is that Blitz problem is not so much that he does not trust but that he never learned the skill of how to develop relationships. This was a big breakthrough and has seen some very amazing results. From our last report of his progress, Blitz is doing very well and is well-liked by his trainers. It took him about two weeks to acclimate to his new surroundings and as of now he does seem to trust his handlers and is cooperating with his training. He will be with them for a few more weeks. We do get periodic updates on his progress. From the information that we have received recently from All Dogs Gym, he has developed friendships with other dogs and is getting along well with them. We are hopeful that this process will enable us to find that special someone to foster or adopt him. The All Dogs Gym has sent us a video of Blitz playtime which we have posted on the Above the Notch Humane Society Facebook page. If you view it, he appears to be having a wonderful time. It is our hope that this training, which he is receiving, will be beneficial to allow us to find him his forever home. In our mind, he most certainly deserves it. If you feel you are the right person and would like further information or would like to schedule an appointment to meet this handsome guy, please email us at : atnhs.email@gmail.com or call (603)823-7077
Adult, Male, Medium